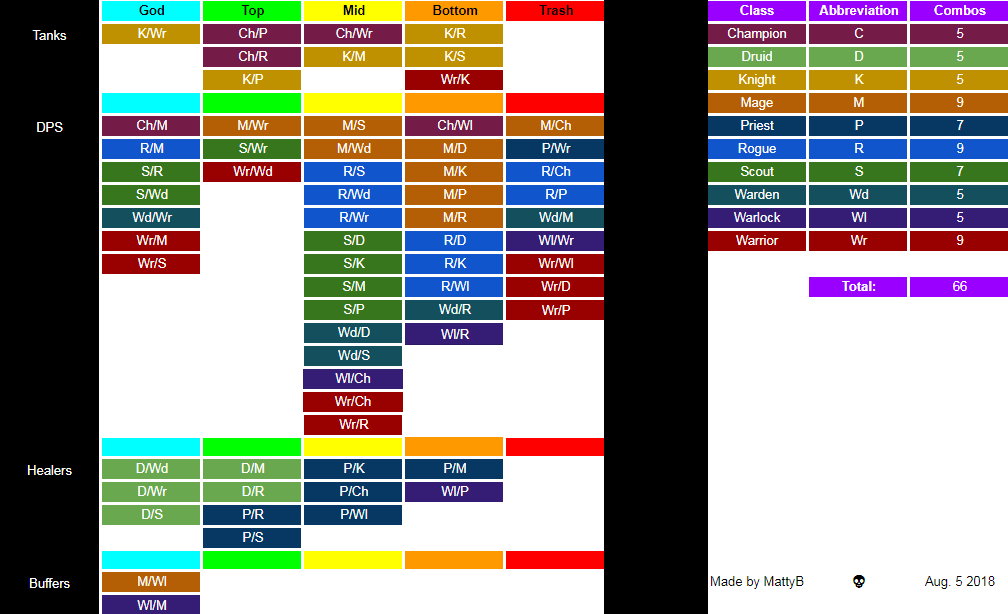 "Omg, my eyes hurt. It's like a bad box of Skittles."
there is no such thing as a bad box of skittles. except an empty one.

Just made this for general reference/idea for new players who post the daily question of "Which class is good at PvE instances" ?
If you'd like to make a suggestion of a move, I'd love to hear it...constructively. BUT PLEASE READ ALL BEFORE COMMENTING.
General acknowledgements before complaining:
80% of the classes on this list are classes I have not played in their current form (or at all). 10% of them I probably have never seen in game at all.
I based my opinions on my personal knowledge (either playing or running with the classes) or other people's knowledge (I looked at a lot of forum threads that listed the "best" classes or "unique" classes).
The order of the classes in their tier is alphabetical by role.
First and foremost, the overall useful in instances was the main factor. But there was a bit more to it than that.
I didn't want to include every role for every class combination. I only put them at what they would be ranked highest at (if it was a tie between categories, I used put them at whatever their main class's stereotypical role was). For example, a Wd/Wr very much could be a tank. I'd even put them in the tier named "Top". However, they are already under the "God" tier, which is better than "Top", in DPS. Another example, K/M is a "Mid" tank, but it would also be a "Mid" DPS. Knights are "meant" to be tanks, so I put it in that category. I might change my stance on this, but I felt like if we include multiple roles, it should be limited to "Mid", "Top", or "God" tiers only.
I didn't know if I was going to include a buffer category when I made this, since they can be doing other things post-buffs (if its a one time buff). However, I decided to include it because I figured their use as a buffer is really their only "Mid" or higher role. They have limited use outside of the buffer role. It is all they should be used for and they are musts for endgame parties. You'll notice that other mainstay buffers, for example Ch/P, WD/S, and K/P have other roles they can actively fill, but are also great buffers when not filling that role.
The tiers don't represent what can or can't be done by a class, but rather their relationship to other classes. For example, a M/Ch could participate in a run, but they'd perform a lot better as a M/W.

"God" Tier is really defined by the ideal circumstances for a party's make up. They are the highest standards when it comes to runs.
"Trash" Tier really had multiple thoughts behind why some classes are there. It is basically "I wouldn't use this in a party instance, ever. Fast track them to getting updates."
For most of them, they are "confused" classes. For example, P/W, the Battlemonk, is a class that has physical DPS and healing, but sucks in both of them.
Others simply aren't used by anyone. While they could be used, no one does because they offer no noticeable perks to where people use them. Wr/Wl and Wl/Wr, I see you. Well, I mean, technically, I don't see any of you.
I debated on one major aspect throughout making this. "Is it trash compared to other versions of its own class or other class combinations in general?" For example, you'll notice all the scouts/x are "Mid" or higher. That is simply because scouts/none would perform better than most of the "Low" and "Trash". However, if you were to compare just scouts, I would put S/D and S/P into "Low" or "Trash". You'd almost have no reason to play S/P or S/D with three free classes and the inability to be S/P/D.
On a similar note, note all the classes in the same tier are necessarily equal. Think of them as ranges on a bell curve. "God" tier might be the top 10%, "Top" might be the next 20%, "Mid" might be the next 40%, "Low" might be the next 20%, and "Trash" might be the bottom 10%". So I'm not saying two class in the middle are necessarily equals, but they are both located in the middle range of all classes.
I could have probably split DPS into Burst DPS and Sustained DPS. You'll notice Wr/M in the "God" tier DPS. They are sustained DPS while most of the others in that category. While they aren't ideal for burst damage runs, I still put them there for their sustained DPS. The problem with splitting the category into these categories is the lower rankings where a DPS is good at neither of them or a class is equally good at both of them.
"But __ is in Mid when it should be in Low."
Please explain why if you make posts like this. I'll update if there is general consensus I am wrong. I'm doing this to help people, not to cause arguments. Thanks!