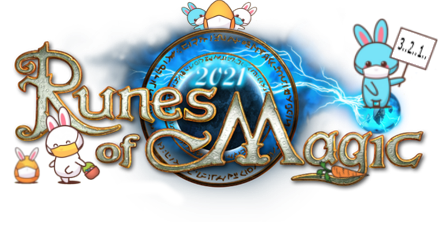 𝓔𝓪𝓼𝓽𝓮𝓻 𝟐𝟎𝟐𝟏 𝓲𝓷 𝓣𝓪𝓫𝓸𝓻𝓮𝓪
The sun is shining,
The weather is great
and yet, we have to sit at home most of the time at the moment.
To still have a bit of Easter joy, we came up with a little game of Hide-and-Seek this year.
We have hidden 25 Easter decorations within and around our guild castle and we ask you to find them.
By using the following macro while talking to the Guild Castle Manager, you can enter our guild castle and start your search:
/run GuildHouses_VisitHouseRequest("Gameforge")


In order to participate in this event, you will have to download the attached image of the guild castle and mark the locations of your findings there.
Once this is done, you can send us your entry with the edited map.
Only one Entry per person!
Send your entries to events@runesofmagic.com
Please use the following template:
Character Name:
Server Name:
The entry must be sent from the email address connected to the game account.
Steam players have to mention their Steam ID.
Any entry recieved after April 11th 2021 at 23.59 CEST will be ignored.
Every successful entry will recieve the following prizes:


1* Yellow Land Duck Mount (7 Days)
1* Card - Quirlag, Son of the Earth Dragon
Rules:
Only one entry per person and guild is allowed and only the first post received will qualify to be eligible to get the prizes.
The Prizes will only be delivered to

Vidar

,

Idun

, Aeterna

,

Svidur

and

Phoenix

.
The Prizes will only be delivered to people who correctly participated.
Entries have to be send from the email adress attached to the game account with the character name that has created the submission. Steam users have to mention their steam ID.
Entries sent after April 11th at 23.59 2021 CEST (11.59 PM)* will be ignored.
The Runes of Magic team reserves the right to make changes in these terms, prizes or any other detail of this contest at any given time, if it was required to do so, due to any unforeseen circumstance that forced us to do so.
*What is this in your time? (link)